Gone are the days when everyone used to knit, fifty years ago no one was looking online at the latest fashion trends or trying to copy their favourite celebrity from a fashion magazine. Both of my Grandmother's loved to knit whether it was toys for the grandchildren, jumpers for their husbands or even a pair of swimming trunks that had to be hold up with a belt when swimming. But never fear, Just Fabric's want to bring back the knitting craze and
persuade
everyone to have a go at knitting on this year's
Knit in Public Day.
Yes its that time of year again, that is in the diaries of knitting lovers world wide. From
Toronto to Calcutta, millions of people across the world are taking part in Knit in Public Day and now,
you can too. Just Fabrics would like to encourage everyone, from beginners to knitting needle experts, to get their needles out and knit something for Saturday 11th June 2011. If you are a beginner, then do not worry, on this blog we will make suggestions that are perfect for beginners. We have
also included a short video on this blog, explaining how to knit.
Why not get into the 'Knit in Public' day spirit by grabbing Just Fabric's 10mm chunky needles and knit a chunky knit scarf like the one we have made here at Just Fabrics. We used the 10mm needles combined with Robin double knit wool, which are available in store today. With a variety of wool colours, knitting patterns and needle sizes available in store today the possibilities for your unique scarf creation, are endless.
The chunky knit scarf is the perfect choice if this is your first creation. If you are a beginner and are unsure how to knit, then the Just Fabrics blog has provided a short video below to teach you the basics of knitting.
If you are a knitting pro and fancy a challenge, why not have a go at making a Jean Greenhowe, Topsy-Turnabout Doll. This is a personal favourite knitting pattern of mine, as my own Grandmother knitted me the Cinderella Topsy Turnabout when I was a child and I loved her. She was poor, servant girl Cinderella in rags that could be turned inside out to reveal Cinderella as a beautiful princess.
In this particular pattern book, you can make Little Red Riding Hood who can turn into her Grandmother or Little Miss Muffet that turns into Old Mother Hubbard. This fantastic knitting pattern, the wool and needles needed for each designs are available in store now.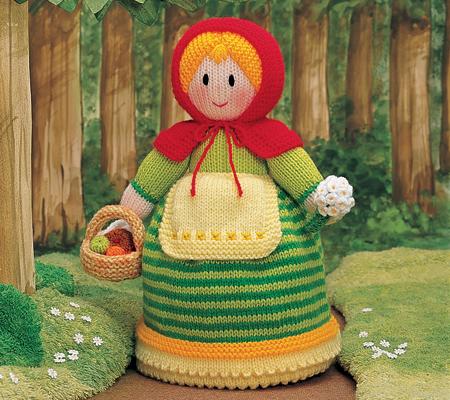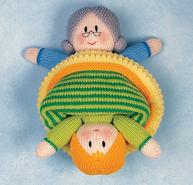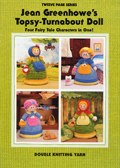 If you don't fancy making a toy, Robin Wool knitting patterns offer a wide range of clothing pieces from jumpers and cardigans to scarfs.
This Robin Wool knitting pattern, 5389, is available in store and features these two fashionable chunky knit wear pieces. The pattern ranges from sizes 10 to 22 and is simple to make, being deemed 'Easy knitwear' by Robin Wool. Both of these chunky knitwear pieces are perfect for wrapping up and keeping you snug and warm on those cold summer evenings. With a variety of wool colours and needle sizes to chose from in store, both of these pieces can transform into a unique item of clothing.
You could knit a pair of these lovely ladies gloves ready for winter (or should I say a British summer) with
the Wendy knitting pattern, 2369 . This pattern will have your fingers toasty and warm and is available in the Just Fabrics store today.
If we have encouraged you to knit anything for Knit in Public Day or you have come up with your own knitting creation, let us know and send your work to justfabrics@yahoo.co.uk.
If you would like to purchase any of of the products you have seen on this blog, you can order by phoning 01634 827063.
Or come and visit us 109 The Pentagon Shopping Centre, Chatham, Kent, ME4 4HW. If you are still unsure as to how to find us you can look on Google maps by clicking this link.
http://maps.google.co.uk/maps/place?
cid=7078408959810272033&hl=en